Paris 2cv Tour+cruise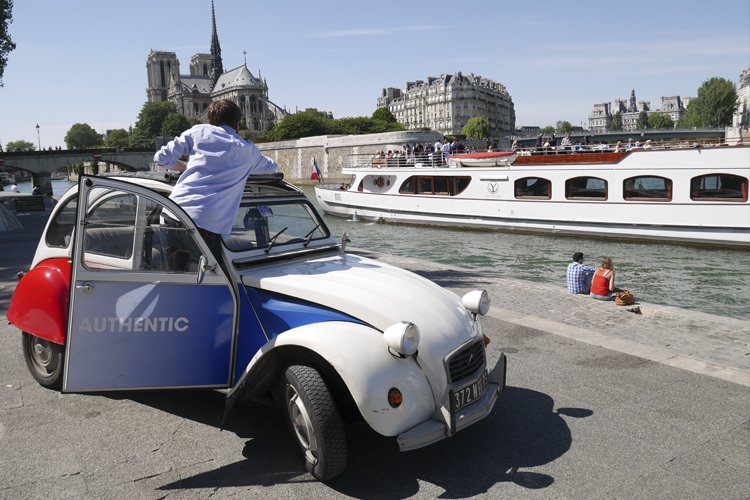 2CV on the banks of the Seine in Paris

---
Would you rather go for the hustle and bustle of the city or the calm of a river ?
You will not have to choose as you will do both. Start with a hectic road tour in the core of Paris that will take you to its busy avenues, then take an easy break with a cruise on the Seine. it's more relaxed but not less gorgeous.
You are hesitating between two possibilities ? Problem solved, go for both ! First, a 1h tour in Paris in places that cannot be seen from the Seine for a wonderful time, then another 1h tour but on the waters.
Get on a famous péniche that carries you between the left and right banks so that your eyes devour unforgettable sights from a unique spot. This is a great success because 2CV + péniche = unforgettable souvenirs, such as Paris.
Warning: return with 2CV not included after the cruise.
---
Tours similar to Paris 2cv Tour+cruise
3 testimonials for Paris 2cv Tour+cruise
---

- 07/08/2017 -
Walk and picnic in Paris in a 2CV

Interesting, we discover parts of Paris that one little tour where the driver is inexhaustible history and anecdotes!

- 07/08/2017 -
A great time

If want to see Paris differently I recommend this walk 3h is the right format memories full the head Ether places unexpected visits

- 07/08/2017 -
To make and remake without moderation

Yves made us travel with his knowledge, very nice, we did not see the time spent aboard his racing 2CV. We recommend this activity and by Yves time driver. Yves thank you from newlyweds Marseille (Kristel and Lawrence)
Leave a review