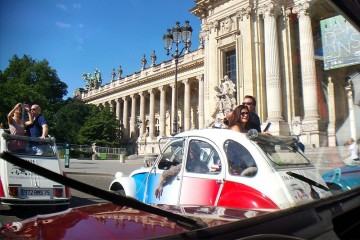 Tours and transfers
There are many different possibilities with Paris Authentic's 2CV trips. Whether it's a simple discovery of Paris, a relaxing interlude for your guests, a gift, or a trip down memory lane to bring back those images from childhood, the Paris Authentic 2CVs and drivers are there to bring to life a unique retro experience in a charming environment.
---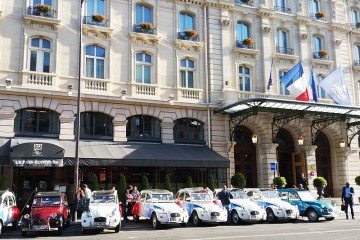 Off-beat trips with our Parisian drivers - fun, charming and multi-lingual
For a real guided visit, our Parisian drivers come and pick up your group from wherever they are in the city. Personable, fun and professional, the multi-lingual drivers (English, French, Italian*, Spanish* and German*) know how to receive your guests and surprise them with an off-beat experience the Parisian way. Each driver will take great pleasure in revealing 'his Paris', the places which he knows and loves, for an unforgettable interlude.
Which itinerary will you choose? Perhaps the great traditional sights if it's your first time in Paris, perhaps something unusual if you want to surprise your guests who think they know the city ... or why not a bespoke trip especially designed according to your wishes? Flexible to your needs, in a 2CV anything is possible!
---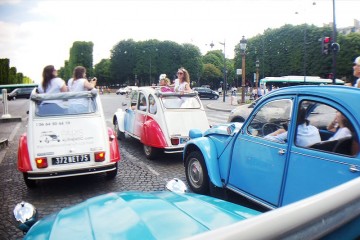 Think of our little 2CVs for your transfers!
Your 2CV comes to you! Wherever you are in central Paris, get a taste of luxury service with a pick-up spot of your choice, then set off on a really different trip. The drop-off point too can be wherever you choose.
Looking for a different way to do your transfers ? Here it is! Your guests will be surprised, smiling and enthusiastic at the mere sight of our vehicles. The 2CVs of Paris Authentic are the ideal transport solution for all your transfers within the city.
---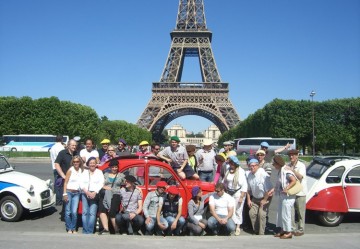 Key Points:
Route and length of each trip is tailor-made for your guests
Pick-up and drop-off wherever you want within Paris (ideal between hotel and restaurant)
Paris Authentic drivers are personable, entertaining, professional and multi-lingual (English, French, Italian*, Spanish* and German*)
Paris Authentic 2CVs are convertibles, able to carry three people, and also equipped with see-through roofs to provide your guests with the best views
Option to personalise the boots of the 2CVs with the corporate colours of your client
Option to add a bottle of champagne as an accompaniment for the trip
For a quote and booking conditions, email
For a quote and booking conditions, contact us.
---