Eiffel Tower Back Stage Tour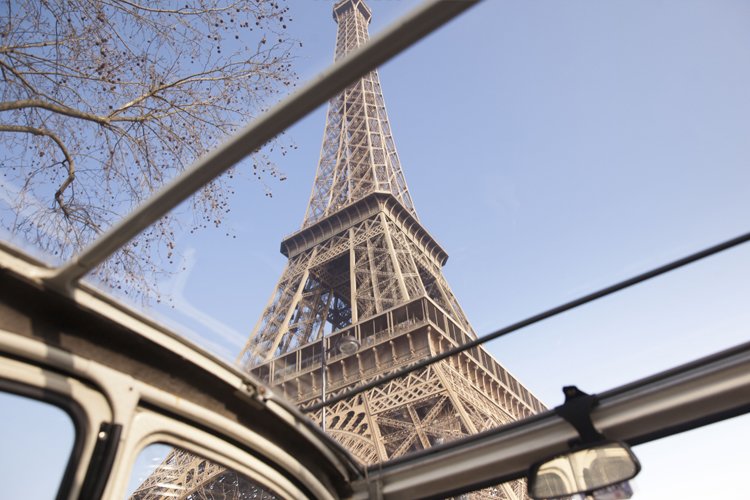 2CV under the Eiffel Tower by day

---
The most famous monument of France holds many secrets.
Would you like to discover some of them in a guided tour of its hidden parts where public access is not permitted ?
Go down to the underside of Eiffel Tower and explore its bunker, radio station... and so much more. You will walk below champs de Mars and have bystanders above your head who do not know that these underground places even exist. With this, you will have a better experience of Eiffel Tower than most visitors.
At the end of this tour of the hidden parts of the building, your guide will leave you at the 1st floor so that you can appreciate Paris with your hair blowing in the wind like in a 2CV. it's a richer experience of Eiffel Tower. Satisfaction guaranteed.
First, a 1h 2CV tour with drop off at north pillar. Your Eiffel Tower guide will meet you in front of the statue of Gustave Eiffel.
---
Tours similar to Eiffel Tower Back Stage Tour
3 testimonials for Eiffel Tower Back Stage Tour
---

- 18/07/2017 -
Legendary paris

beautiful ballad in the heart of Paris, in very nice places far from the tumult of Paris. PARIS We found out from another angle advise to people looking for something truly original and more what was funny people smiled as we passed in these beautiful vintage cars

- 06/07/2017 -
Only happyness !

We had a MAGICAL moment !!!!! Peter shared with us his knowledge and fun !! It has exploded! We met between cousin for a girls weekend and the ride was the icing on the cake !! Just a clearing at the visit under the sun, driver responsive and champagne in hand !! What more??

- 25/06/2017 -
Had a blast !

My sister and I took the 2 hr night tour and had a blast. Our driver spoke perfect English, was personable, informative and engaging. We saw all the lit up sights from amazing vantage points. We asked for and got red wine instead of champagne. This 'romantic' tour is not just for couples.
Leave a review